In search of an exciting career path?
Become an airline pilot and turn your dream into a reality!
​Austria´s premier address for airline pilot training
​​Internationally recognised
​​Only 2 years to license
This is what your life could be like soon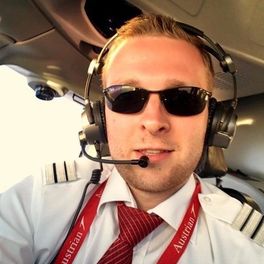 "Due to this forefront education, I was able to fulfill my life's dream." (Andreas Klikovits)
I completed my training at Aviation Academy Austria in 2014 and have been flying the Embraer 195 as a pilot with Austrian Airlines for almost 3 years.
I am very grateful to Aviation Academy Austria for the superb training, as I can put the knowledge and experience I have gained there into practice every day.
Following my completion of the training, I got a job as an airline pilot very quickly and without any problems.
The reason why I decided to join Aviation Academy is very simple:
You are perfectly prepared for your career as a future airline pilot right from the start!
The road to become a pilot: Could it be for you?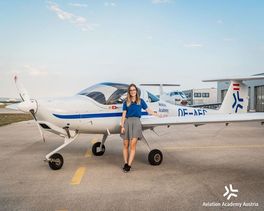 For many people, the profession of a pilot is an absolute dream job.
What many miss...
Is that it does not need to remain a dream.
But how does one become a pilot?
At Aviation Academy Austria!
We train YOU as a future pilot for all international airlines.
Why train at Aviation Academy Austria?
It's simple - we live to fly and you'll see that as soon as you join us!
The company was founded in 2004 by a group of young airline pilots, started with the purchase of a Fokker 70/100 Level D full-flight simulator and expanded rapidly. Very soon afterwards, the ATPL Academy was founded at the airfield in Wr. Neustadt East. The goal to train successful airline pilots has remained true since the beginning – transferring the wisdom of professionals to future professionals.
All our flight instructors are either airline pilots or commercial pilots with a very, very large training experience. Due to our clear commitment to professional training, we provide the basic training solely with glass cockpit aircraft paired with the strict training guidelines of airlines.
Our focus is on flying as a profession. In short: "Aviation Academy Austria represents professional, personal and high-quality training."
The most important requirements at a glance
English fluency in speaking and writing
Minimum age of 18 years at the beginning of the training
General/specialised higher education entrance qualification or advanced technical college entrance qualification (Fachabitur) or intermediate school leaving certificate with completed vocational training
What our current students have to say about the training
Jakob Waidhofer
HTL St.Pölten graduate
"You get to see a lot of different places. You have the freedom to go to pretty much any country that the plane can take you."
Yulia Luchko
Helicopter pilot
"I chose Aviation Academy Austria for several reasons: it´s the biggest flight school in Austria, they have great instructors, a modern fleet and on the top of that good connections with Airlines."
Shiloh Saatori
International student from Hong Kong
"My decision to join the Aviation Academy Austria was purely because of their professionalism."
With us dreams become reality
E-Mail:
pilot@aviationacademy.at
Phone:
+43 5 9449 900
Address:
Aviation Flight Center GmbH
Ferdinand-Graf-von-Zeppelin-Straße 7
2700 Wiener Neustadt
Some mentors to accompany you on your way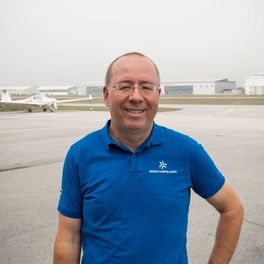 Oliver Karall
CEO & flight instructor
Managing Director Aviation Flight Center GmbH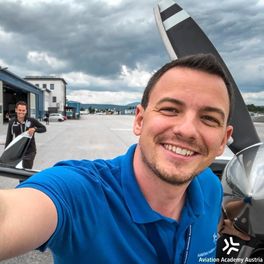 Thomas Schindler
Chief Flying Instructor
Capt. Business Jet Falcon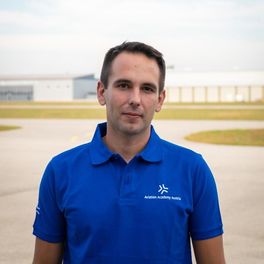 Alexander Freyler
Deputy Chief Flying Instructor
Copilot LearJet at Air Ambulance
A small insight into our training
Frequently asked questions
What kind of planes can I fly at AAA?
Our fleet currently consists of 11 Diamond Aircraft. Throughout the VFR flight phase our students fly on a DV20E. For the instrument rating we use our DA42VI FNPT II simulator paired with the DA40. The multi-engine rating is performed on a DA42. The MCC and JOC training at the end of the training takes place on one of our Full Flight Level D simulators in Neusiedl am See.
What costs do I have to expect during the training?
We will be happy to advise you personally about our training program and the costs involved. Please contact us by phone at +43 5 9449 900 or by e-mail at pilot(at)aviationacademy.at.
What medical requirements do I need to bring with me?
Before starting the ATPL training you will need a Class 1 medical certificate, which is issued by an approved aeromedical center.
Can I do the training on a part-time basis?
We offer our training as intensive courses and partly weekend courses. Due to an annual plan, in which all obligatory theory units are listed, a long-term holiday planning is possible and therefore it is possible to attend an intensive course despite having a job. We would be happy to inform you about our exact schedule in a personal conversation.
When can I start training at Aviation Academy Austria?
Our ATPL courses start 4 times a year. You can find the exact dates on our homepage www.aviationacademy.at.
What are the career opportunities as a pilot?
The demand for commercial and airline pilots is highly dependent on the economic situation and can therefore fluctuate greatly. However, forecasts by aircraft manufacturers and airlines indicate a strong expansion of worldwide air traffic and therefore a worldwide demand for pilots is necessary in the long term.
You think you have what it takes to be a pilot?
Is your answer YES?
Then click on the button NOW and secure your personal consultation, where we will find out together how we can make your career possible!
Benefit from our unique advantages
​​Largest Airline independent ATPL Academy in Austria
​​Internationally recognised
​Only 2 years to license
​