We get you into the cockpit!
You want to make flying your profession and become a PILOT? Discover the modern training concept of our ATPL Academy and start your training now.
What makes our ATPL Academy special
AIRLINE standards from the very beginning


From day one our entire training program is designed to prepare you for a successful airline pilot career
Team of airline pilots and flight instructors with many years of experience
Austria's only flight school with its own simulator center
MCC on a high-quality Simulator of a commercial aircraft with airline feeling
International orientation with career events & mentoring for your job in the cockpit - even after the end of training
Most modern and youngest fleet in Austria (state-of-the-art displays in the cockpit)

​Your airline-ready pilot license in only two years
From the mountains to the sea - TOP location in the heart of Europe
AAA-spirit with focus on motivation, teamwork and personality development
Individual training concepts depending on previous experience and goals
Part-time training possible
Four course starts per year
This could be YOUR success story ...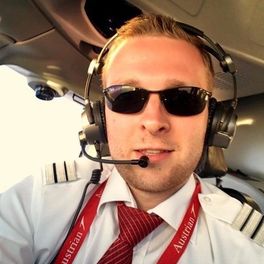 "Thanks to the top training, I was able to fulfill my life's dream." (Andreas Klikovits)
I completed my training at Aviation Academy Austria and have been flying the Embraer 195 as a pilot with Austrian Airlines.
I am very grateful to Aviation Academy Austria for the superb training, as I can put the knowledge and experience I have gained there into practice every day.
Following my completion of the training, I got a job as an airline pilot very quickly and without any problems.
The reason why I decided to join Aviation Academy is very simple:
You are perfectly prepared for your career as a future airline pilot right from the start!
Airline pilot - make your dream a dream job
We see our students as future colleagues. That's why we have a clear goal right from the start: to train you to become a responsible airline pilot in just two years!
At Aviation Academy Austria you will not only learn to fly. We are determined to equip you with all the skills you need for a successful career in the cockpit and thus offer you an incomparable learning experience. Teamwork, responsibility and airmanship are just some of the important points we emphasize.
We encourage and challenge in equal measure. With us you can expect a goal-oriented, action-packed and unforgettable study time.
Why you should come to AAA
Apart from the highest quality standards and professionalism, which is the base for us, our training goes far beyond the official minimum requirements.
We want to prepare you intensively for a successful pilot career and pave your way into the cockpit of a commercial aircraft.
Variety instead of boring standards
One thing we want you to do right from the start: Broaden your horizons. And we provide you with the best possible support in doing so. For this reason, we do not impose any restrictions on the choice of training airfields. You may and should get to know as many different airfields as possible.
"Ciao" and cappuccino in Venice? A delicious fish platter in Croatia and back?
Experience unforgettable moments during your solo flights! Our airfield LOAN is ideally located. You can reach mountains, the sea as well as the Hungarian lowland Puszta within shortest time.
Flying means freedom. And we live it every day.
Turn our extra to your advantage
What does that mean?
We do not focus on minimum requirements, but train perfectly trained pilots. For example, our students complete their MCC (Multicrew Coordination Course), in which they learn essential communication basics and work processes in a multicrew cockpit, in the simulator of a large commercial aircraft. Airline feeling is guaranteed!
Our own simulator center reinforces our commitment to building strong relationships with international aviation companies. Of course, this also benefits our students enormously by giving them fantastic opportunities to pursue their pilot careers with international airlines.
Throughout the training, of course, fun should not be neglected. Quite the opposite. We live and love aviation every day and share your passion! Excursions, team-building events, a mentoring program or even just a simple coffee chat between aviation enthusiasts are part of our daily routine.
Step by step to your pilot training
Minimum age 18 years
very good knowledge of English
free criminal record
Medical Class I
Matura/High School degree recommended
The decision about a flight school influences your further path to becoming a professional pilot. That's why we recommend you to look at several flight schools and choose the right one for you personally.
On our info days, we take the time to answer all your questions about pilot training. Take a tour of our training facilities and take a seat in one of our aircraft for the first time.
After passing the Basic Qualification Test and a personal interview, where we would like to get to know you better, we are looking forward to welcoming you to AAA as a student pilot!
This is what our students say about the training
Jakob Waidhofer
former AAA student
"You get to see a lot of different places. You have the freedom to go to pretty much any country that the plane can take you."
Shiloh Saatori
former AAA student, now First Officer at Avcon Jet (C560XL/XLS)
"My decision to join Aviation Academy Austria was purely because of their professionalism."
Frequently asked questions
What kind of planes can I fly at Aviation Academy Austria?
Our fleet, which is also the youngest training fleet in Austria, includes 11 Diamond Aircraft aircraft. In the visual flight phase our students fly on a DV20E. For the instrument rating we use our DA42 FNPT II simulator, the DA40 NG and the DA42 NG-VI. The multi-engine rating is performed on a DA42 NG-VI. All our state-of-the-art aircraft are equipped with modern, airline standard displays.
What costs do I have to expect during the training?
We will be happy to advise you personally about our training program and the costs involved. Please contact us by phone at +43 5 9449 900 or by e-mail at pilot(at)aviationacademy.at.
Can I do the training on a part-time basis?
Yes! We tailor our training entirely to your personal needs. You decide whether you want to learn full or part time. The theoretical part of our training is divided into a distance learning and a classroom phase. We will be happy to inform you about our exact schedule in a personal meeting.
When can I start training at Aviation Academy Austria?
Our ATPL courses start 4 times a year. You can find the exact dates here.
What are the career opportunities as a pilot?
The demand for airline pilots is highly dependent on the economic situation and can therefore fluctuate greatly. However, forecasts by aircraft manufacturers and airlines indicate a strong expansion of worldwide air traffic and therefore a worldwide demand for pilots is necessary in the long term.
A small insight into our training
Some mentors to accompany you on your way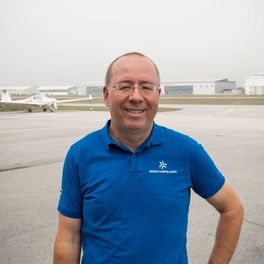 Oliver Karall
CEO & flight instructor
Managing Director Aviation Flight Center GmbH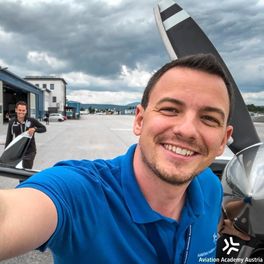 Thomas Schindler
Head of training
Capt. PC-12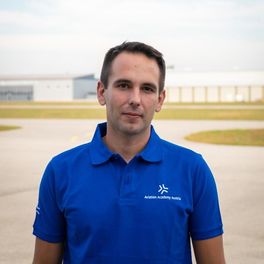 Alexander Freyler
Chief Flying Instructor
Copilot LearJet at Air Ambulance
Are you ready for take-off?
We look forward meeting you in person soon!
E-Mail:
pilot@aviationacademy.at
Phone:
+43 5 9449 900
Address:
Aviation Flight Center GmbH
Ferdinand-Graf-von-Zeppelin-Straße 7
2700 Wiener Neustadt